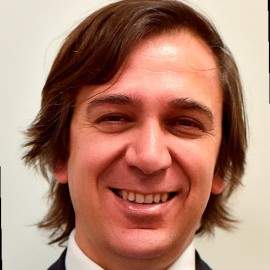 João Breda
Organização Mundial da Saúde
Dr João Breda is Special Adviser of WHO/Europe Regional Director's for the establishment of Sub-Regional Offices and is based in Greece.

Until recently he Headed the WHO European Office for the Prevention and Control of NCDs, which is an integral part of the WHO Regional Office for Europe. Led by Dr Breda, the NCD Office provided support to 53 Member States in the WHO European Region based on population-level, targeted approaches to ensure a reduction in NCD risk, an overall decline in premature mortality. In 2019, the team he was leading was given an Award of Excellence announced by Dr Tedros Adhanom Ghebreyesus, WHO Director-General, which acknowledges the exceptional contribution to the Organization, tangible gains and achievements.

For eleven years Dr João Breda was Programme Manager for Nutrition, Physical activity and Obesity at the WHO Regional Office for Europe, responsible for the implementation of the European Food and Nutrition Action Plan 2015-2020 and the Physical Activity Strategy for the WHO European Region 2016-2025, as well as evaluating their implementation process.

Dr. Breda was also the recipient of the Gold Medal for outstanding services in the field of Health granted by the Portuguese Ministry of Health in 2018. He also received more than 20 scientific and academic awards and/or distinctions notably the Honorary Professorship by the Medical Academy of Kazakhstan and the Gerlev Award (Denmark). João Breda has published more than 250 original reports, scientific articles and more than 20 books (including the number one best seller on infant nutrition in Portugal),

Before joining WHO, Dr Breda was the Portuguese focal point to WHO/Europe for alcohol, nutrition and physical activity, and to the High-Level Group on Nutrition & Physical Activity and the European Platform on Diet, Nutrition and Physical Activity of the European Union.

He was the first coordinator of the national platform against obesity under the Portuguese Ministry of Health. He worked as a public health official at the general Health Directorate of Health for many years. He was the Head of the Nutrition Department at Atlantic University in Lisbon as well as lecturer and researcher at the Agriculture University of Coimbra (ESAC), the University of the Algarve and the School of Hospitality and Culinary Arts in Coimbra.

Dr João Breda is a PhD in Nutrition with a focus on public health, a Master of Business Administration, a Master's in public health and initially graduated in Nutritional Sciences.